My name is Rob Raiche. I retired from the Marines in 2009 and have made snowmobiles and powersports my full time job ever since. In addition to selling new and used parts at: (RHI PowerSports)... I also do a lot of hauling. I make a few trips every month throughout the Western states picking up and dropping off Snowmobiles as well as: ATV's, Golf Carts, Trailers, Sled Decks, Jet Skis or just about anything else that will fit inside the trailer, can ride on my flatbed or be pulled behind my truck. I have a shop in SHERIDAN WYOMING and another location in HUTCHINSON MINNESOTA.

If you need me to haul something... GIVE ME A CALL!

I am very well known in the snowmobiling communities. When Dealers, Manufacturers, Race Teams, Performance Shops, High Dollar Vintage Collectors, Celebrity Snowmobilers and Private Buyers/Sellers need a machine hauled... I am the guy they call.

I personally cover: MN, WI, Upper Michigan, ND, SD, IA, NE, CO, UT, ID, MT, WY, WA and Northern OR. And I work with a few other reputable haulers to get machines to and from: UT, NV, NM, AZ, CA and all states East of MN all the way to Maine as well. If you need a sled hauled pretty much anywhere... I CAN GET IT DONE!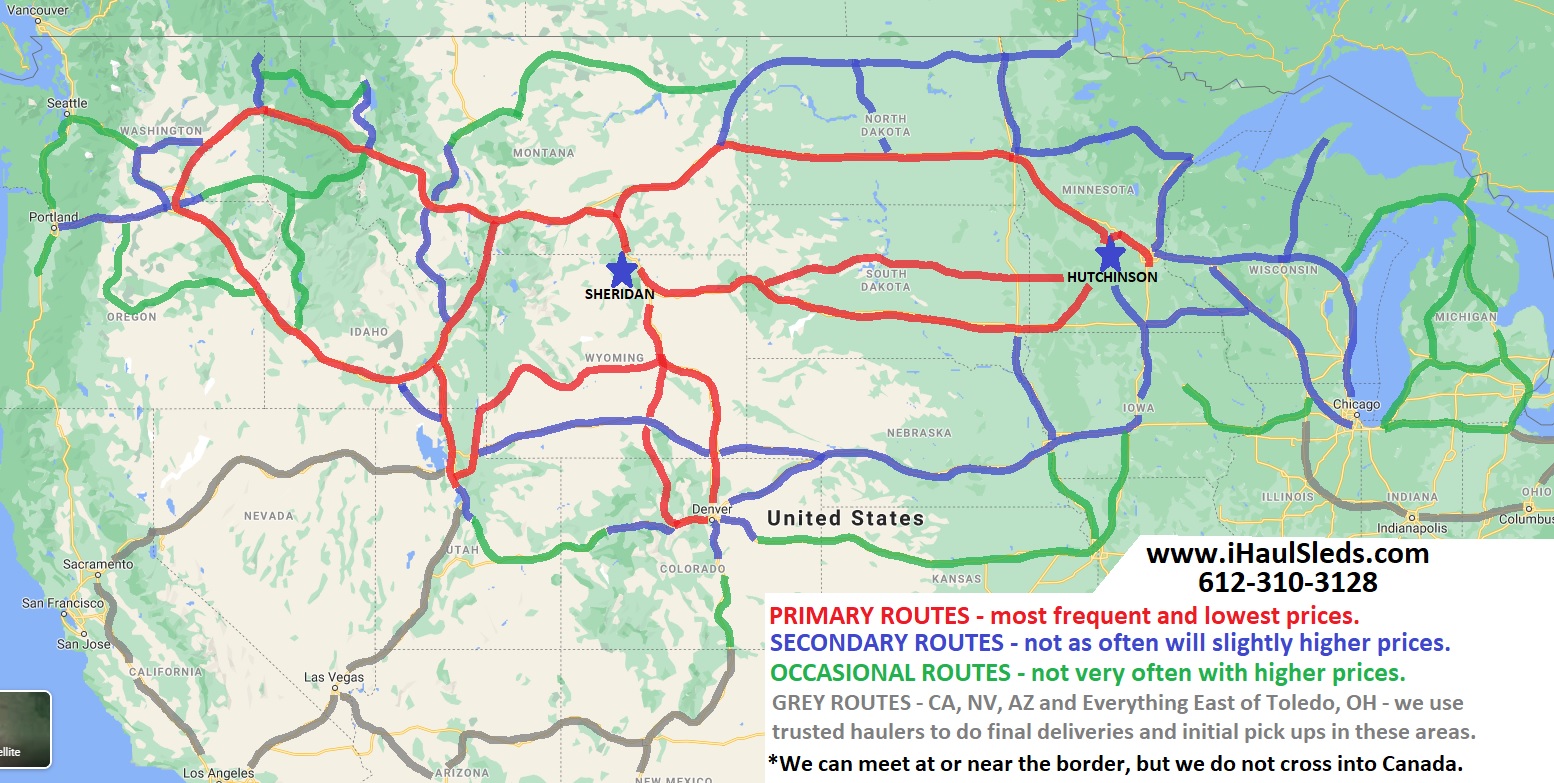 I am affordable. Most snowmobiles are $300-$500!
I can be very flexible and will make special trips if needed!
*Machines that don't run or require special handling and addresses that are extremely remote (not near a freeway) will cost more.

CONTACT ME: the best way is by phone. My number is: 612-310-3128 or you can click HERE to send me an email.

LOCATIONS: I have a shop in SHERIDAN WYOMING 82801 and a 2nd location in HUTCHINSON MINNESOTA 55350. Both places have a lot of safe, secure indoor storage space available at them. Machines can be dropped off and stored for however long you need to pick them up or get them to their destinations.

PAYMENT: is due in full at delivery by Cash, Check, PayPal or Card.
- Repeat Customers, Veterans, Law Enforcement, Fire Fighters and Paramedics always get $50 off!
- I also offer discounts for multiple machines going to or coming from the same locations.
- Dropping machines off or picking them up in Sheridan, WY or Hutchinson, MN will save you a few bucks!